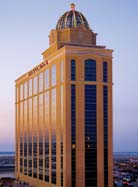 A world of luxurious accommodations, spectacular entertainment, exquisite cuisine, irresistible amenities and non-stop action is the Tropicana Resort.
At the heart of Old Havana stood the original Tropicana Casino and Resort - the ultimate destination in the ultimate getaway city - the Queen of all Havana Casinos.
Now, with the opening of The "Quarter" at Tropicana Casino & Resort Atlantic City, the same unique experience that was Old Havana has come to Atlantic City. The Quarter at Tropicana will be like no other dining and entertainment venue on the East Coast.